GRAYONE
€55,000 - €75,000 / WEEK
Year Built/Refit: 2020
Yacht Length: 80.00 Ft
Total Crew: 5
Charges From: €55,000
Number of Guests: 8
Number of Cabins: 4
---
Type: Cat
Beam: 37.10 Feet
Draft: 13.4 Feet
Pax: 8
YearBuilt: 2020
Builder: Sunreef Yachts
CruiseSpeed: 8
MaxSpeed: 11
Engines: 2x John Deere 280HP - Diesel Normal cruise 80 L/Hrs Fast Cruise 100 L/Hrs 2x Kopher 20KW, automatic parallel running
KidsSkis: Yes
JetSkis: 1
ScubaOnboard: Yacht offers Rendezvous Diving only
CaptainName: TBA
Flag: Malta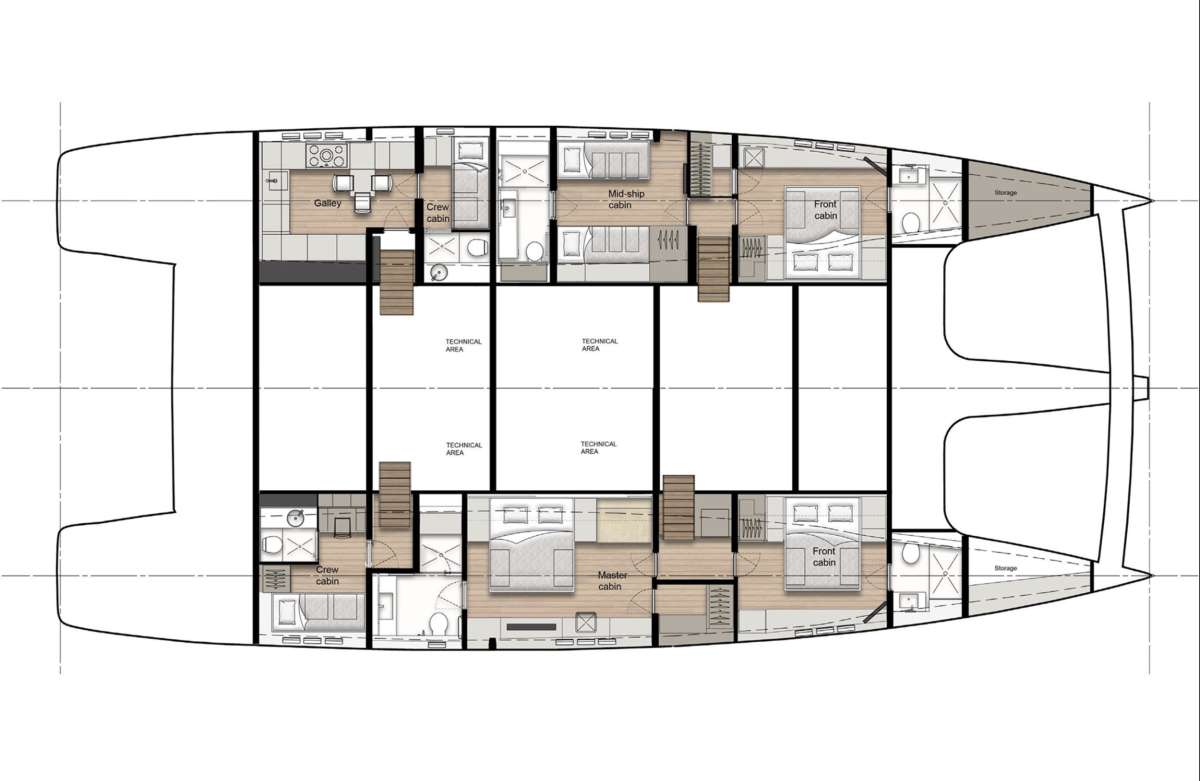 Boat Details
Cabins: 4
Queen: 3
Single Cabins: 1 Showers: - Wash Basins: - Heads: - Electric Heads: 4

---

Pick Up Locations Pref. Pick-up: NEA PERAMOS Other Pick-up: -

---

Details Refit: - Helipad: No Jacuzzi: No A/C: Full
---
Engine Details
2x John Deere 280HP - Diesel Normal cruise 80 L/Hrs Fast Cruise 100 L/Hrs 2x Kopher 20KW, automatic parallel running
Fuel Consumption: 100
Cruising Speed: 8
Max Speed: 11US Gall/Hr
Locations
Winter Area: -
Summer Area: Greece
---
Amenities
| | |
| --- | --- |
| Salon Tv/VCR: | Yes |
| Salon Stereo: | Yes |
| Sat Tv: | Raymarine VHF and handheld Radio |
| # of Videos: | - |
| # DVDs/Movies: | - |
| # CD's: | - |
| Camcorder: | - |
| Books: | - |
| Board Games: | - |
| Sun Awning: | - |
| Deck Shower: | - |
| Bimini: | Yes |
| Water Maker: | Yes (x2) |
| | |
| --- | --- |
| Special Diets: | Inq |
| Kosher: | Inq |
| BBQ: | - |
| # Dine In: | - |
| Minimum Age: | - |
| Generator: | Yes |
| Inverter: | - |
| Voltages: | - |
| Water Maker: | Yes (x2) |
| Water Cap: | - |
| Ice Maker: | Yes |
| Sailing Instructions: | - |
| Internet Access: | Onboard WIFI |
| | |
| --- | --- |
| Gay Charters: | Yes |
| Nude: | Inq |
| Hairdryers: | - |
| # Port Hatches: | - |
| Guests Smokes: | - |
| Crew Smokes: | Inq |
| Pets Aboard: | No |
| Pet Type: | - |
| Guest Pets: | - |
| Children Ok: | Yes |
| Hammock: | - |
| Windscoops: | - |
Water Sports
| | |
| --- | --- |
| Dinghy size: | Castoldi 16ft jet |
| Dinghy hp: | 110 |
| Dinghy # pax: | 8 |
| Water Skis Adult: | Yes |
| Water Skis Kids: | Yes |
| Jet Skis: | 1 |
| Wave Runners: | - |
| Kneeboard: | Yes |
| Windsurfer: | - |
| Snorkel Gear: | Yes |
| Tube: | - |
| | |
| --- | --- |
| Scurfer: | - |
| Wake Board: | Yes |
| Kayaks 1 Pax: | - |
| Kayaks (2 Pax): | - |
| Floating Mats: | No |
| Swim Platform: | - |
| Boarding Ladder (Loc/Type): | Stern Hydraulic |
| Sailing Dinghy: | - |
| Beach Games: | - |
| Fishing Gear: | Yes |
| Gear Type: | - |
| Rods: | 1 |
Captain: TBA

Chef: TBA

Chief Stewardess: Kirsty Ravell
Kirsty was born in 1993 in South Africa. She is an experienced crew member who has worked as a stewardess/cook onboard a privately owned 70ft Power Catamaran for one year (summer and winter) in the Mediterranean. During her time on board, she has gained confidence in a range of duties. Prior to joining the yachting industry, Kirsty worked as a coach/trainer at an e-commerce company, providing her with immense experience in management and quality control duties. She also has experience in the hospitality industry as a front-of-house hostess. Having worked from a young age, Kirsty has developed strong life skills and learned how to thrive in any kind of situation. She has always had a very optimistic approach to life and has had many opportunities to expand her work ethic and relationship-building skills within the companies and yachts she has worked for. Kirsty believes that she can bring these skills to a crew and be a valuable team member on board to take the best care of their guests! She speaks English and Afrikaans.

Stewardess: Elizabeth Ravell
Elizabeth was born in 1996 in South Africa and currently resides in Palma, Spain. She has experience with a variety of yachting duties, including interior works, washdowns, line work, and tender driving, from her time as a personal trainer, deckhand, and stewardess. In addition to her maritime experience, Elizabeth has over three years of hospitality experience, which has given her the ability to pay attention to the smallest of details. She has a substantial interest in fitness, health, and nutrition, and she is a certified fitness instructor with knowledge and experience in the fitness industry. In addition, Elizabeth possesses a degree in Human Resource Management, which has equipped her with the ability to comprehend transparent communication, team dynamics, and dedication to the welfare of colleagues. Elizabeth is a team member, inventive thinker, enthusiastic, and diligent worker who will contribute 100% to the success of the crew on board Grayone. She speaks English and Afrikaans.

Deckhand: Jhonny Barreto
Jhonny was born in Spain. He has graduated from Polytechnical University of Catalunya. He has been working 29 years in teams of different nationalities. He has managed his nautical career and nautical job simultaneously. He is highly motivated, disciplined and with great attitude to achieve personal and professional objectives. Johnny is very active person, he likes running, mountain bike and snorkelling.

W= Winter: (15 December - 30 April)
---
S=Summer: (1 May - 14 December)
Greece
Available:
Hold/Option:
Booked:
Unavailable:
| | | | | | | | | | | | | | | | | | | | | | | | | | | | | | | | |
| --- | --- | --- | --- | --- | --- | --- | --- | --- | --- | --- | --- | --- | --- | --- | --- | --- | --- | --- | --- | --- | --- | --- | --- | --- | --- | --- | --- | --- | --- | --- | --- |
| Jan 2024 | 1 | 2 | 3 | 4 | 5 | 6 | 7 | 8 | 9 | 10 | 11 | 12 | 13 | 14 | 15 | 16 | 17 | 18 | 19 | 20 | 21 | 22 | 23 | 24 | 25 | 26 | 27 | 28 | 29 | 30 | 31 |
| Feb 2024 | 1 | 2 | 3 | 4 | 5 | 6 | 7 | 8 | 9 | 10 | 11 | 12 | 13 | 14 | 15 | 16 | 17 | 18 | 19 | 20 | 21 | 22 | 23 | 24 | 25 | 26 | 27 | 28 | 29 | | |
| Mar 2024 | 1 | 2 | 3 | 4 | 5 | 6 | 7 | 8 | 9 | 10 | 11 | 12 | 13 | 14 | 15 | 16 | 17 | 18 | 19 | 20 | 21 | 22 | 23 | 24 | 25 | 26 | 27 | 28 | 29 | 30 | 31 |
| Apr 2024 | 1 | 2 | 3 | 4 | 5 | 6 | 7 | 8 | 9 | 10 | 11 | 12 | 13 | 14 | 15 | 16 | 17 | 18 | 19 | 20 | 21 | 22 | 23 | 24 | 25 | 26 | 27 | 28 | 29 | 30 | |
| May 2024 | 1 | 2 | 3 | 4 | 5 | 6 | 7 | 8 | 9 | 10 | 11 | 12 | 13 | 14 | 15 | 16 | 17 | 18 | 19 | 20 | 21 | 22 | 23 | 24 | 25 | 26 | 27 | 28 | 29 | 30 | 31 |
| Jun 2024 | 1 | 2 | 3 | 4 | 5 | 6 | 7 | 8 | 9 | 10 | 11 | 12 | 13 | 14 | 15 | 16 | 17 | 18 | 19 | 20 | 21 | 22 | 23 | 24 | 25 | 26 | 27 | 28 | 29 | 30 | |
| Jul 2024 | 1 | 2 | 3 | 4 | 5 | 6 | 7 | 8 | 9 | 10 | 11 | 12 | 13 | 14 | 15 | 16 | 17 | 18 | 19 | 20 | 21 | 22 | 23 | 24 | 25 | 26 | 27 | 28 | 29 | 30 | 31 |
| Aug 2024 | 1 | 2 | 3 | 4 | 5 | 6 | 7 | 8 | 9 | 10 | 11 | 12 | 13 | 14 | 15 | 16 | 17 | 18 | 19 | 20 | 21 | 22 | 23 | 24 | 25 | 26 | 27 | 28 | 29 | 30 | 31 |
| Sep 2024 | 1 | 2 | 3 | 4 | 5 | 6 | 7 | 8 | 9 | 10 | 11 | 12 | 13 | 14 | 15 | 16 | 17 | 18 | 19 | 20 | 21 | 22 | 23 | 24 | 25 | 26 | 27 | 28 | 29 | 30 | |
| Oct 2024 | 1 | 2 | 3 | 4 | 5 | 6 | 7 | 8 | 9 | 10 | 11 | 12 | 13 | 14 | 15 | 16 | 17 | 18 | 19 | 20 | 21 | 22 | 23 | 24 | 25 | 26 | 27 | 28 | 29 | 30 | 31 |
| Nov 2024 | 1 | 2 | 3 | 4 | 5 | 6 | 7 | 8 | 9 | 10 | 11 | 12 | 13 | 14 | 15 | 16 | 17 | 18 | 19 | 20 | 21 | 22 | 23 | 24 | 25 | 26 | 27 | 28 | 29 | 30 | |
| Dec 2024 | 1 | 2 | 3 | 4 | 5 | 6 | 7 | 8 | 9 | 10 | 11 | 12 | 13 | 14 | 15 | 16 | 17 | 18 | 19 | 20 | 21 | 22 | 23 | 24 | 25 | 26 | 27 | 28 | 29 | 30 | 31 |