ANGELEYES
$74,550 - $107,795 / WEEK
Year Built/Refit: 2017
Yacht Length: 85.00 Ft
Total Crew: 4
Charges From: $74,550
Number of Guests: 10
Number of Cabins: 5
---
Type: Power
Beam: 23.3 Feet
Draft: 5.11 Feet
Pax: 10
YearBuilt: 2017
Builder: Horizon
CruiseSpeed: 12
MaxSpeed: 16
Engines: Twin caterpillar C18 1136 hp each
KidsSkis: Yes
ScubaOnboard: Yacht offers Rendezvous Diving only
CaptainName: Darrel Hearne
Flag: BVI
SatTv: Yes
RegNum: 748787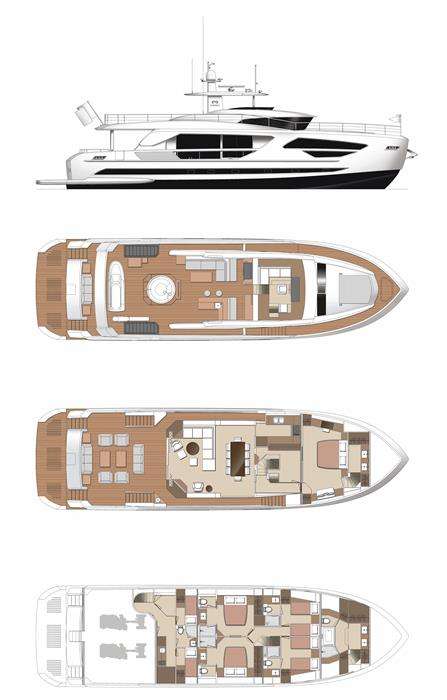 Boat Details
Cabins: 5
Queen: 3
Single Cabins: 1 Showers: 5 Wash Basins: - Heads: - Electric Heads: 5

---

Pick Up Locations Pref. Pick-up: Tortola, BVI Other Pick-up: -

---

Details Refit: - Helipad: No Jacuzzi: Yes A/C: Full
---
Engine Details
Twin caterpillar C18 1136 hp each
Fuel Consumption: -
Cruising Speed: 12
Max Speed: 16US Gall/Hr
Locations
Winter Area: Caribbean Virgin Islands (BVI)
Summer Area: Caribbean Virgin Islands (BVI)
---
Amenities
| | |
| --- | --- |
| Salon Tv/VCR: | Yes |
| Salon Stereo: | Yes |
| Sat Tv: | - |
| # of Videos: | - |
| # DVDs/Movies: | - |
| # CD's: | - |
| Camcorder: | - |
| Books: | - |
| Board Games: | - |
| Sun Awning: | Yes |
| Deck Shower: | Yes |
| Bimini: | Yes |
| Water Maker: | Yes |
| | |
| --- | --- |
| Special Diets: | Yes |
| Kosher: | Yes |
| BBQ: | Yes |
| # Dine In: | - |
| Minimum Age: | 10 |
| Generator: | 2 Onan 29 kW |
| Inverter: | Yes |
| Voltages: | 110 |
| Water Maker: | Yes |
| Water Cap: | 400 gallons |
| Ice Maker: | Yes |
| Sailing Instructions: | - |
| Internet Access: | Onboard WIFI |
| | |
| --- | --- |
| Gay Charters: | Yes |
| Nude: | Yes |
| Hairdryers: | Yes |
| # Port Hatches: | - |
| Guests Smokes: | Aft deck only |
| Crew Smokes: | No |
| Pets Aboard: | No |
| Pet Type: | - |
| Guest Pets: | No |
| Children Ok: | Yes |
| Hammock: | - |
| Windscoops: | - |
Water Sports
| | |
| --- | --- |
| Dinghy size: | Novurania |
| Dinghy hp: | 200 hp |
| Dinghy # pax: | 10 |
| Water Skis Adult: | Yes |
| Water Skis Kids: | Yes |
| Jet Skis: | - |
| Wave Runners: | - |
| Kneeboard: | Yes |
| Windsurfer: | - |
| Snorkel Gear: | Yes |
| Tube: | Yes |
| | |
| --- | --- |
| Scurfer: | - |
| Wake Board: | Yes |
| Kayaks 1 Pax: | - |
| Kayaks (2 Pax): | - |
| Floating Mats: | Yes |
| Swim Platform: | Yes |
| Boarding Ladder (Loc/Type): | Swim Platform/Aft |
| Sailing Dinghy: | - |
| Beach Games: | Yes |
| Fishing Gear: | Yes |
| Gear Type: | - |
| Rods: | 4 |
Captain Darrel
Darrel grew up in Johannesburg, South Africa, where he spent his time prowling the suburban jungles and raising his pet lion, Chaos. He also managed to actually finish school, and spent several wasted years at university studying a surprisingly varied and random number of subjects, all of which are totally useless in his current job. He is also a lieutenant in the South African National Defense Force - salutes are optional on board. He speaks three languages, two of which are only spoken in South Africa.
In 2003 he decided to quit his job and give up the exciting life of an accountant, and go to sea. He moved to Cape Town in South Africa, to complete his captain's license. After several months of sailing some of the roughest waters on the planet, he finished his qualifications, and is legally allowed to captain small dinghies in several third-world countries. He has lived and sailed in the Caribbean for the past fourteen years, sailing on a variety of vessels in the charter industry. He has extensive sailing experience throughout the Caribbean, and knows where to find the best bars on most islands, some of which may let him come back again. In his travels he has swum with dolphins, had humpback whales breach right next to (and almost land on) his boat, and sailed through a hurricane. He is keen to experience two of these three things again. He is an experienced and seasoned sailor, with over 45,000 nautical miles logged and over 400 charters successfully completed.
Chef Jenn
Jenn grew up in Canada (in a well-known haunted house, no less!) but has strong family ties in the islands. She visited the British Virgin Islands for twenty years, before finally taking the leap five years ago to make the switch and become a local. Along the way she has managed a jazz club, been a make-up artist, worked as a realtor and captained a space simulator. Her move has worked out well, as she brings her considerable experience in the hospitality and food industries on board. Our guests continue to rave about her gourmet cuisine, and guests are advised to bring loose-fitting clothing for the return trip. Naturally friendly and engaging, Jenn will win you over with her home cooking and cheerful vibe.
Jenn comes from a family of chefs, and has worked in the hospitality industry for many years. Her experience comes from restaurant management and hands-on learning. She has three years of experience in the charter yacht industry, and brings all her varied experiences to bear when creating her delicious meals. Jenn is a versatile chef who works closely with guests to come up with a charter menu tailored to their personal preferences. She enjoys using locally-grown foodstuffs, and tries to incorporate a farm-to-table approach in her cooking. She has amazing contacts and local suppliers down here that assist in this, and she strives to incorporate healthy and wholesome nutrition in her delicious meals. Her favorite culinary creations are classics with a twist, or anything where people ask for more.
A keen beach bum, Jenn's love of the water and the island life are a perfect fit for the charter lifestyle. Combine that with her warm and caring nature, and it makes her everyone's favorite crew member. She is a sunny, genuine, friendly soul, and we are very happy to have her on board as part of our team.
Mate Remi
Remi was born in Mauritius (an island in the middle of the Indian Ocean, for the geographically-challenged), but spent most of his formative years living in South Africa. He boasts two first languages, and speaks French and English fluently. In the Caribbean, he generally uses the French to impress naive female tourists in bars. This seems to work very effectively. Remi completed his degree in Environmental Management in South Africa, and worked as a mixologist and surf coach before selling his car to buy a one-way ticket to somewhere boaty. He has been in the industry for four years now, and has sailed far and wide in his travels. He has recently completed his captain's ticket, and is sometimes allowed to stand in the pilothouse and look at all the shiny controls, although Darrel sleeps with one eye open lest the troops mutiny.
Remi is an avid surfer, and loves any excuse to get out on the water. He would be more than happy to get involved with any of the water-sport activities offered on the boat, and has years of experience in teaching a variety of board sports. He has also spent a lot of time on both sides of the bar counter, and loves showing off his skills should you need him to whip you up an amusing cocktail. There is an ongoing contest on board as to who mixes the best drinks – thus far, Jenn's Mai Thai leads the polls, with Darrel's Short But Strangely Satisfying Island Iced Tea a close second, although Remi is mounting a strong challenge with his Tomato and Basil daiquiri. You be the judge.
Remi is a genuinely pleasant and likable guy, and his easy-going and affable nature means you are bound to leave the boat as firm friends.
Stewardess Jenny
Jenny was born and raised in Scotland (part of a large island just west of France, for the geographically-challenged), the daughter of two avid divers, so her childhood was spent bobbing around on dive boats and learning to love the water from the inside of a wetsuit. The only one of us who actually has some schooling in the hospitality industry, Jenny holds a degree in hotel management and catering. She spent several years working (and later managing) various hotels and restaurants in Edinburgh, before making the leap and moving to the BVI. She has lived here for more than two decades, although her accent still leaves no doubt as to which rugby team she supports. She has worked on boats as well as owning and managing restaurants on island in that time, and knows everyone and everything island-related.
Jenny is one of those people with boundless energy, and don't let her diminutive stature fool you - she's feisty. Happy and sunny and feisty. Her previous experience and varied skills means she can fit in wherever she's needed, so you may find her helping in the galley; pouring liberal drinks behind the bar (the Scots, like the BVIslanders, like their drinks strong); or you may not see her at all but just be pleasantly surprised by the magical and fragrant cleanliness and tidiness that happens wherever she goes. Jenny rounds out our team by striving, as we all do, for the three F's: Friendliness, Flexibility, and being Fenomenally good at the job.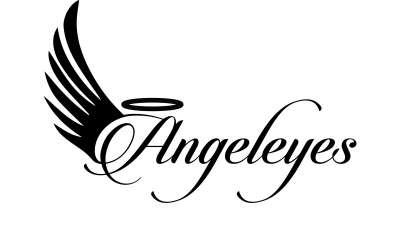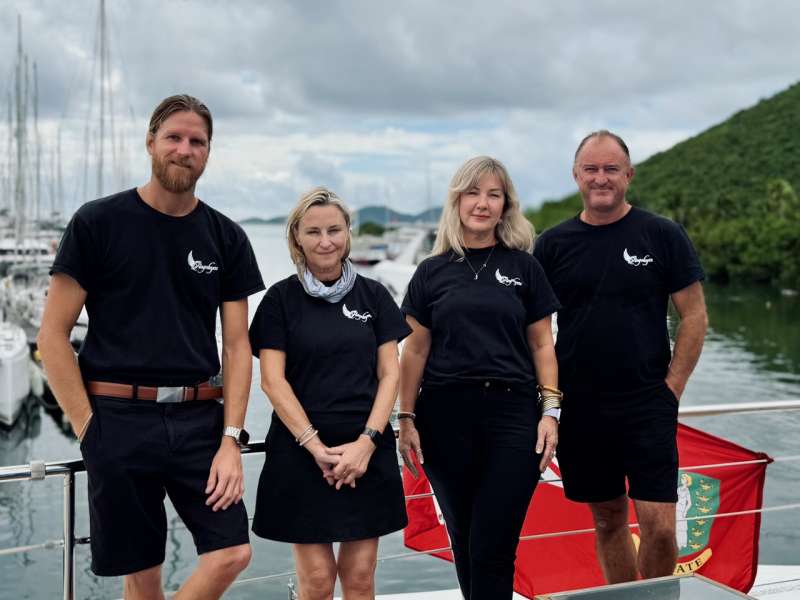 W= Winter: (15 December - 30 April)
Caribbean Virgin Islands (BVI)
---
S=Summer: (1 May - 14 December)
Caribbean Virgin Islands (BVI)
Available:
Hold/Option:
Booked:
Unavailable:
| | | | | | | | | | | | | | | | | | | | | | | | | | | | | | | | |
| --- | --- | --- | --- | --- | --- | --- | --- | --- | --- | --- | --- | --- | --- | --- | --- | --- | --- | --- | --- | --- | --- | --- | --- | --- | --- | --- | --- | --- | --- | --- | --- |
| Dec 2023 | 1 | 2 | 3 | 4 | 5 | 6 | 7 | 8 | 9 | 10 | 11 | 12 | 13 | 14 | 15 | 16 | 17 | 18 | 19 | 20 | 21 | 22 | 23 | 24 | 25 | 26 | 27 | 28 | 29 | 30 | 31 |
| Jan 2024 | 1 | 2 | 3 | 4 | 5 | 6 | 7 | 8 | 9 | 10 | 11 | 12 | 13 | 14 | 15 | 16 | 17 | 18 | 19 | 20 | 21 | 22 | 23 | 24 | 25 | 26 | 27 | 28 | 29 | 30 | 31 |
| Feb 2024 | 1 | 2 | 3 | 4 | 5 | 6 | 7 | 8 | 9 | 10 | 11 | 12 | 13 | 14 | 15 | 16 | 17 | 18 | 19 | 20 | 21 | 22 | 23 | 24 | 25 | 26 | 27 | 28 | 29 | | |
| Mar 2024 | 1 | 2 | 3 | 4 | 5 | 6 | 7 | 8 | 9 | 10 | 11 | 12 | 13 | 14 | 15 | 16 | 17 | 18 | 19 | 20 | 21 | 22 | 23 | 24 | 25 | 26 | 27 | 28 | 29 | 30 | 31 |
| Apr 2024 | 1 | 2 | 3 | 4 | 5 | 6 | 7 | 8 | 9 | 10 | 11 | 12 | 13 | 14 | 15 | 16 | 17 | 18 | 19 | 20 | 21 | 22 | 23 | 24 | 25 | 26 | 27 | 28 | 29 | 30 | |
| May 2024 | 1 | 2 | 3 | 4 | 5 | 6 | 7 | 8 | 9 | 10 | 11 | 12 | 13 | 14 | 15 | 16 | 17 | 18 | 19 | 20 | 21 | 22 | 23 | 24 | 25 | 26 | 27 | 28 | 29 | 30 | 31 |
| Jun 2024 | 1 | 2 | 3 | 4 | 5 | 6 | 7 | 8 | 9 | 10 | 11 | 12 | 13 | 14 | 15 | 16 | 17 | 18 | 19 | 20 | 21 | 22 | 23 | 24 | 25 | 26 | 27 | 28 | 29 | 30 | |
| Jul 2024 | 1 | 2 | 3 | 4 | 5 | 6 | 7 | 8 | 9 | 10 | 11 | 12 | 13 | 14 | 15 | 16 | 17 | 18 | 19 | 20 | 21 | 22 | 23 | 24 | 25 | 26 | 27 | 28 | 29 | 30 | 31 |
| Aug 2024 | 1 | 2 | 3 | 4 | 5 | 6 | 7 | 8 | 9 | 10 | 11 | 12 | 13 | 14 | 15 | 16 | 17 | 18 | 19 | 20 | 21 | 22 | 23 | 24 | 25 | 26 | 27 | 28 | 29 | 30 | 31 |
| Sep 2024 | 1 | 2 | 3 | 4 | 5 | 6 | 7 | 8 | 9 | 10 | 11 | 12 | 13 | 14 | 15 | 16 | 17 | 18 | 19 | 20 | 21 | 22 | 23 | 24 | 25 | 26 | 27 | 28 | 29 | 30 | |
| Oct 2024 | 1 | 2 | 3 | 4 | 5 | 6 | 7 | 8 | 9 | 10 | 11 | 12 | 13 | 14 | 15 | 16 | 17 | 18 | 19 | 20 | 21 | 22 | 23 | 24 | 25 | 26 | 27 | 28 | 29 | 30 | 31 |
| Nov 2024 | 1 | 2 | 3 | 4 | 5 | 6 | 7 | 8 | 9 | 10 | 11 | 12 | 13 | 14 | 15 | 16 | 17 | 18 | 19 | 20 | 21 | 22 | 23 | 24 | 25 | 26 | 27 | 28 | 29 | 30 | |